| | | |
| --- | --- | --- |
| " | Better to die standing than to live on bent knee. | " |
More than two hundred years before the events in Blood of Elves, Aelirenn, also known as the White Rose of Shaerrawedd and as Elirena among dwarves and humans, led a great number elven youth to their deaths, much against the wishes of the elders, in a second battle against the humans.
Ability
Play immediately from your deck whenever there are 5 or more revealed Elf units on your side.
Witcher links
 See this subject on The Witcher wiki: Aelirenn
Animated card
Note: For accurate card stats, see infobox to the right; the one below is for illustrative purposes only.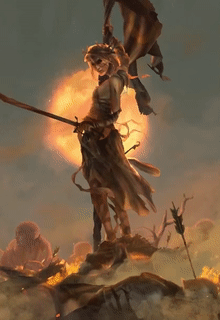 Patch changes
 Gwent Update: Dec 19, 2016 Patch: Aelirenn will no longer gain +1 strength when played. Aelirenn's strength changed from 5 to 6.
 Gwent Update: Dec 2, 2016 Patch: Aelirenn ability changed to: Add +1 to all Elves, play from deck when 5 or more Elves are on your side.
Ad blocker interference detected!
Wikia is a free-to-use site that makes money from advertising. We have a modified experience for viewers using ad blockers

Wikia is not accessible if you've made further modifications. Remove the custom ad blocker rule(s) and the page will load as expected.