Ability
Boost self by 1 whenever either player draws a card.
Animated card
Note: For accurate card stats, see infobox to the right; the one below is for illustrative purposes only.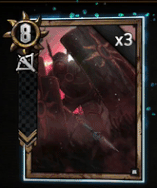 Witcher links
Patch changes
 Gwent Update: Aug 29, 2017 Patch: Ability rework; Whenever a player draws a card to their Hand, Boost self by 1. Now Agile (was Ranged). Added Soldier Tag.