| | | |
| --- | --- | --- |
| " | That doddery dolt? Ye cannae even tell if he's alive or stuffed! | " |
Ability
Play a Silver unit or a Bronze Dwarf from your deck.
Animated card
Note: For accurate card stats, see infobox to the right; the one below is for illustrative purposes only.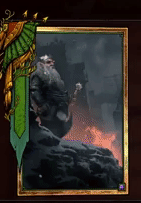 Witcher links
Patch Changes
 Gwent Update: Aug 29, 2017 Patch: Now additionally able to Play a Bronze Dwarf. General change; Doomed and Stubborn are no longer tags, but abilities in card's description. General change; Removed Leader tokens from Leader card preview. Fixed an issue with Brouver's selection showing a maximum of 10 cards.
 Gwent Update: May 24, 2017 Patch: Brouver Hoog Power changed from 0 to 4. No longer able to play Special cards. Agile and Legendary as every other Leader. Now obtainable in the "challanges". General change: Added Doomed and Stubborn tags to all Leaders.
 Gwent Update: Nov 15, 2016 Patch: Brouver Hoog is now Epic as every other Leader (was Legendary). New sound effects for cards (Blue Stripes Commando, Pavetta, Sabrina Glevissig, Sile, Sarah, Vrihedd Vanguard, Igni, Scoia'tael Leaders).