| | | |
| --- | --- | --- |
| " | Men require constant alluring. Mystique and refinement do the job quite well. | " |
Carthia van Canten, also known as "Cantarella", was the mistress of Vattier de Rideaux, the head of Nilfgaardian intelligence for Emhyr var Emreis. She was informing Assire var Anahid about Vattier's intentions. She had an excellent memory, a lively intelligence, and a mercurial wit.
Ability
Deploy: Draw the top card from your Deck. Keep it, or place it at the bottom of your Deck and draw the new top card.
Witcher links
Animated card
Note: For accurate card stats, see infobox to the right; the one below is for illustrative purposes only.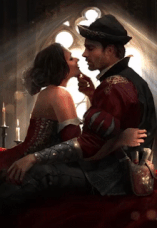 Patch changes
 Gwent Update: May 24, 2017 Patch: Cantarella Power changed from 12 to 10. Now Agile (was Ranged). No longer Weather-Immune. Won't lose 6 Base Power if not Spying anymore. Added "Doomed" Tag.
 Gwent Update: March 23, 2017 Patch: Cantarella strength changed from 6 to 12.; Cantarella now loses 6 base strength when not Spying.; When Cantarella draws a card, you now select it if you want to keep it.
 Gwent Update: Feb 6, 2017 Patch: Added.
Ad blocker interference detected!
Wikia is a free-to-use site that makes money from advertising. We have a modified experience for viewers using ad blockers

Wikia is not accessible if you've made further modifications. Remove the custom ad blocker rule(s) and the page will load as expected.