| | | |
| --- | --- | --- |
| " | They'll shatter on our shields like waves on a craggy shore. | " |
The women of Clan Drummond command respect as fierce and hardy warriors. With their tight formations and unbreakable discipline, they've made the phrase "you fight like a maiden" an expression of high praise.
Ability
Deploy: Damage a Unit by 2. If it was already Damaged, play a copy of this Unit from your Deck.
Animated card
Note: For accurate card stats, see infobox to the right; the one below is for illustrative purposes only.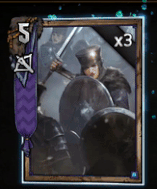 Witcher links
Patch changes
 Gwent Update: Aug 29, 2017 Patch: Added Soldier and Drummond Tags. Added sound effects to Clan Drummond Shieldmaidens' Premium cards. Fixed an issue whereby Drummond Shieldmaidens couldn't Damage Boosted Units.
 Gwent Update: May 24, 2017 Patch: Ability rework; Veteran 1. Deploy: Damage a Unit by 2. If it was already Damaged, play a Clan Drummond Shieldmaiden from your Deck. Clan Drummond Shieldmaiden power changed from 5 to 3. Now Rare (was Common).
Ad blocker interference detected!
Wikia is a free-to-use site that makes money from advertising. We have a modified experience for viewers using ad blockers

Wikia is not accessible if you've made further modifications. Remove the custom ad blocker rule(s) and the page will load as expected.