| | | |
| --- | --- | --- |
| " | Nilfgaardians call 'im Tirth ys Muire, the Wild Boar o' the Sea. Use 'im to scare their kiddies! | " |
Ability
Strengthen the Highest non-Spying Bronze or Silver unit in your deck by 2 and play it.
Animated card
Note: For accurate card stats, see infobox to the right; the one below is for illustrative purposes only.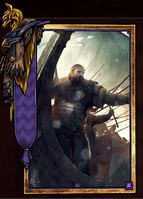 Witcher links
Patch changes
 Gwent Update: Dec 19, 2017 Patch: Removed Doomed and Stubborn from every Leader. Name change: Crach (was Crach an Craite). Won't damage self and a unit it played anymore. Will Strengthen by 2 (instead of 3).
 Gwent Update: Aug 29, 2017 Patch: Crach an Craite Power changed from 4 to 5. Will now Damage self by 1. Will Damage the Unit, only if it doesn't Damage itself. General change; Doomed and Stubborn are no longer tags, but abilities in card's description. General change; Removed Leader tokens from Leader card preview. Added an Craite Tag.
 Gwent Update: May 24, 2017 Patch: Ability rework. Crach an Craite Strength changed from 0 to 4. Now Legendary and Agile as every other Leader. General change: Added Doomed and Stubborn tags to all Leaders.