| | | |
| --- | --- | --- |
| " | Nilfgaardians call 'im Tirth ys Muire, the Wild Boar o' the Sea. Use 'im to scare their kiddies! | " |
Crach an Craite, also known as Tirth ys Muire (Sea Boar) and Wild Boar of the Sea, was a nephew of King Bran of Skellige and was mentored by Eist Tuirseach, king of Cintra. He was described as a broad shouldered youth with a mop of red hair and is known for sometimes showing quite a temper. He was known for his fiery temperament and healthy appetite.
Ability
Deploy: Play the Highest Loyal Bronze or Silver Unit in your Deck, Strengthen it by 3, then, if it does not Damage itself, Damage it by 1.
Animated card
Note: For accurate card stats, see infobox to the right; the one below is for illustrative purposes only.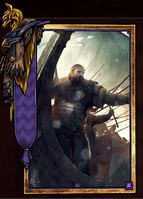 Witcher links
Patch changes
 Gwent Update: Aug 29, 2017 Patch: Crach an Craite Power changed from 4 to 5. Will now Damage self by 1. Will Damage the Unit, only if it doesn't Damage itself. General change; Doomed and Stubborn are no longer tags, but abilities in card's description. General change; Removed Leader tokens from Leader card preview. Added an Craite Tag.
 Gwent Update: May 24, 2017 Patch: Ability rework. Crach an Craite Strength changed from 0 to 4. Now Legendary and Agile as every other Leader. General change: Added Doomed and Stubborn tags to all Leaders.
Ad blocker interference detected!
Wikia is a free-to-use site that makes money from advertising. We have a modified experience for viewers using ad blockers

Wikia is not accessible if you've made further modifications. Remove the custom ad blocker rule(s) and the page will load as expected.