| | | |
| --- | --- | --- |
| " | Nilfgaardians call 'im Tirth ys Muire, the Wild Boar o' the Sea. Use 'im to scare their kiddies! | " |
Ability
Deploy: Damage self by 1, then play the Highest Loyal Bronze or Silver Unit from your Deck and Strengthen it by 3, then, if it does not Damage itself, Damage it by 1.
Animated card
Note: For accurate card stats, see infobox to the right; the one below is for illustrative purposes only.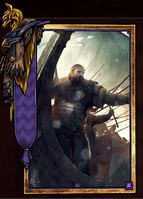 Witcher links
Patch changes
 Gwent Update: Aug 29, 2017 Patch: Crach an Craite Power changed from 4 to 5. Will now Damage self by 1. Will Damage the Unit, only if it doesn't Damage itself. General change; Doomed and Stubborn are no longer tags, but abilities in card's description. General change; Removed Leader tokens from Leader card preview. Added an Craite Tag.
 Gwent Update: May 24, 2017 Patch: Ability rework. Crach an Craite Strength changed from 0 to 4. Now Legendary and Agile as every other Leader. General change: Added Doomed and Stubborn tags to all Leaders.
Ad blocker interference detected!
Wikia is a free-to-use site that makes money from advertising. We have a modified experience for viewers using ad blockers

Wikia is not accessible if you've made further modifications. Remove the custom ad blocker rule(s) and the page will load as expected.