Cyprian Wiley the younger was one of Novigrad's most dangerous criminals. He had inherited his father's casinos, fighting ring, and brothels - as well as the old man's sadistic tendencies, ruthlessness and lack of scruples. These traits had made the moniker "Whoreson" something of a family heirloom for his powerful criminal clan.
Ability
Deploy: Weaken a Unit by 3 or Destroy an Ambush Unit before it triggers.
Animated card
Note: For accurate card stats, see infobox to the right; the one below is for illustrative purposes only.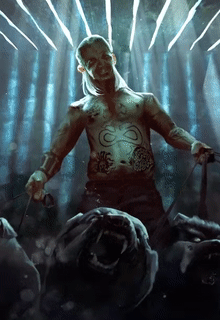 Witcher links
Patch changes
 Gwent Update: March 23, 2017 Patch: Cyprian Wiley now only deals 3 base damage to an opposing non-Gold unit. No effect when removed from board.; Cyprian Wiley strength changed from 5 to 7.
Ad blocker interference detected!
Wikia is a free-to-use site that makes money from advertising. We have a modified experience for viewers using ad blockers

Wikia is not accessible if you've made further modifications. Remove the custom ad blocker rule(s) and the page will load as expected.