| | | |
| --- | --- | --- |
| " | I know how to execute orders, so take your advice somewhere else. | " |
Dennis Cranmer is a dwarf and captain of Duke Hereward's guards. He's stocky, with flaxen hair and beard and steel-grey eyes. He is depicted as a very fair and impartial individual, if fervently dedicated to fulfilling his duties "to the letter". It is his adherence to this particular principle which saves Geralt, when the witcher is forced to participate in a seemingly unwinnable duel.
Ability
Deploy: Strengthen all other Dwarves in your Deck, Hand and on your side of the Board by 1.
Animated card
Note: For accurate card stats, see infobox to the right; the one below is for illustrative purposes only.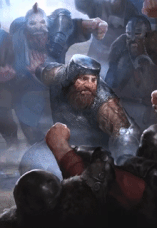 Witcher links
Patch changes
 Gwent Update: May 24, 2017 Patch: Ability rework (resembling old Barclay Els); Deploy: Strengthen all other Bronze and Silver Dwarves in your Deck, Hand and on your side of the Board by 1. Dennis Cranmer Power changed from 4 to 8. Dennis Cranmer is now Melee (was Agile).
 Gwent Update: Feb 20, 2017 Patch: Added a 1 turn timer to Dennis Cranmer - will now reset all other non-Gold units on the row at the end of the round.
Ad blocker interference detected!
Wikia is a free-to-use site that makes money from advertising. We have a modified experience for viewers using ad blockers

Wikia is not accessible if you've made further modifications. Remove the custom ad blocker rule(s) and the page will load as expected.