| | | |
| --- | --- | --- |
| " | An important part of every Witch Hunter's kit. In one muted flash, it turns the most powerful sorcerer into pork jelly ripe for cutting. | " |
Ability
Choose 5 adjacent Units and Reset them. If any are Gold, Demote them first.
Animated card
Note: For accurate card stats, see infobox to the right; the one below is for illustrative purposes only.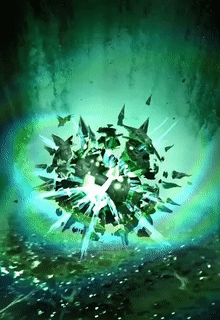 Witcher links
Patch changes
 Gwent Update: March 23, 2017 Patch: Dimeritium Bomb now affects 5 adjacent units (positioning).; Fixed an issue whereby using Dimeritium Bomb to demote units in Weather would reset them to base strength and ignore the Weather.
 Gwent Update: Feb 20, 2017 Patch: Fixed an issue whereby Dimeritium Bomb would reset units' to their base strength disregarding Weather Effects.
 Gwent Update: Feb 6, 2017 Patch: Will now affect a chosen row.; Will now convert Gold units to Silver or Bronze (if that was their original color) on top of resetting their strength to base value.
Ad blocker interference detected!
Wikia is a free-to-use site that makes money from advertising. We have a modified experience for viewers using ad blockers

Wikia is not accessible if you've made further modifications. Remove the custom ad blocker rule(s) and the page will load as expected.