| | | |
| --- | --- | --- |
| " | I've gathered all the jarls together. Now make your case. | " |
Few jarls of Skellige were as honored and obeyed as Donar an Hindar, the eldest of their number. Despite his advanced age he remained the active leader of his clan and its representative at all official gatherings. The only person able to break his composure was Madman Lugos, whose clan had long feuded with the an Hindars.
Ability
Veteran 1.
Deploy: Toggle a Unit's Lock. Discard a random Bronze card from your opponent's Deck to your Graveyard.
Animated card
Note: For accurate card stats, see infobox to the right; the one below is for illustrative purposes only.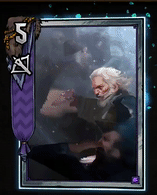 Witcher links
Patch changes
Ad blocker interference detected!
Wikia is a free-to-use site that makes money from advertising. We have a modified experience for viewers using ad blockers

Wikia is not accessible if you've made further modifications. Remove the custom ad blocker rule(s) and the page will load as expected.