| | | |
| --- | --- | --- |
| " | Hear ye now the tale of the heroic deeds of Clan an Craite. | " |
Draig Bon-Dhu was a young skald from Skellige who accompanied Eist Tuirseach, Crach an Craite, and Mousesack to the feast held by queen Calanthe in honour of her daughter, the princess Pavetta's coming of age.
Ability
Deploy: Strengthen up to 2 Units in your Graveyard by 3.
Animated card
Note: For accurate card stats, see infobox to the right; the one below is for illustrative purposes only.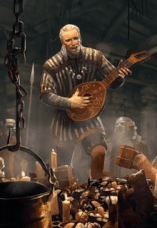 Witcher links
Patch changes
 Gwent Update: Feb 20, 2017 Patch: No longer Relentless. Ability changed to: add 3 base strength to 2 non-Gold units in your graveyard.
 Gwent Update: Dec 2, 2016 Patch: Draig Bon-Dhu strength changed from 2 to 4. Draig Bon-Dhu now adds 1 to base strength of units in the graveyard, instead of adding 2 to current strength.
Ad blocker interference detected!
Wikia is a free-to-use site that makes money from advertising. We have a modified experience for viewers using ad blockers

Wikia is not accessible if you've made further modifications. Remove the custom ad blocker rule(s) and the page will load as expected.