| | | |
| --- | --- | --- |
| " | Some men cannot admit defeat. Some keep fighting from beyond the grave. | " |
The draug is a mythical creature, straight from ancient legends of heroes and epic deeds. When the hero enters the burning hells to rescue his beloved, or when he has to avenge his father's death, the draug is often his opponent. Why are poets so keen to cast this monster as the arch-enemy? Well, the draug is a wraith, so it fits any dark story featuring a curse or vengeance from the beyond. There's no telling how what it actually looks like, so its terrifying visage can be described in many ways without risking accusation of confabulation. Furthermore, it is a powerful creature, a prince of the damned, so it makes an ideal villain.
Ability
Deploy: Damage a random Enemy by 1 (ignoring Armor). Repeat 6 times.
Animated card
Note: For accurate card stats, see infobox to the right; the one below is for illustrative purposes only.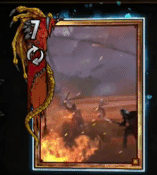 Witcher links
Patch changes
Ad blocker interference detected!
Wikia is a free-to-use site that makes money from advertising. We have a modified experience for viewers using ad blockers

Wikia is not accessible if you've made further modifications. Remove the custom ad blocker rule(s) and the page will load as expected.