| | | |
| --- | --- | --- |
| " | The dryad queen has eyes of molten silver, and a heart of cold–forged steel. | " |
Lady Eithné is the queen of the dryads and ruler of Brokilon. She is famous for her wisdom and implacable stance towards humans. Their attempts to claim the ancient forest for its trees and supposed treasures have fostered centuries of conflict. In addition to being loathed by King Viraxas of Kerack, she and King Ervyll of Verden share a mutual hatred of each other.
Ability
Spawn Eithné
Deploy: Resurrect a Special card.
Animated card
Note: For accurate card stats, see infobox to the right; the one below is for illustrative purposes only.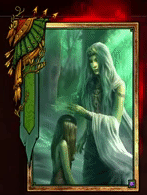 Witcher links
Patch changes
 Gwent Update: May 24, 2017 Patch: Ability rework resembling old Aglais; Spawn Eithné. Deploy: Resurrect a Special card. Eithné Power changed from 0 to 5. Now Agile and Legendary as every other Leader. Now obtainable in the "challanges".
 Gwent Update: Nov 15, 2016 Patch: Eithne is now Epic as every other Leader (was Legendary). New sound effects for cards (Blue Stripes Commando, Pavetta, Sabrina Glevissig, Sile, Sarah, Vrihedd Vanguard, Igni, Scoia'tael Leaders).
Ad blocker interference detected!
Wikia is a free-to-use site that makes money from advertising. We have a modified experience for viewers using ad blockers

Wikia is not accessible if you've made further modifications. Remove the custom ad blocker rule(s) and the page will load as expected.