| | | |
| --- | --- | --- |
| " | The dryad queen has eyes of molten silver, and a heart of cold–forged steel. | " |
Ability
Resurrect a Bronze or Silver special card.
Animated card
Note: For accurate card stats, see infobox to the right; the one below is for illustrative purposes only.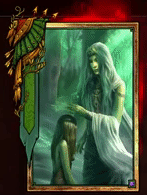 Witcher links
Patch changes
 Gwent Update: Aug 29, 2017 Patch: Clarified the tooltip to specifically state that the ability affects Bronzes or Silvers. General change; Doomed and Stubborn are no longer tags, but abilities in card's description. General change; Removed Leader tokens from Leader card preview.
 Gwent Update: May 24, 2017 Patch: Ability rework resembling old Aglais; Spawn Eithné. Deploy: Resurrect a Special card. Eithné Power changed from 0 to 5. Now Agile and Legendary as every other Leader. Now obtainable in the "challanges". General change: Added Doomed and Stubborn tags to all Leaders.
 Gwent Update: Nov 15, 2016 Patch: Eithne is now Epic as every other Leader (was Legendary). New sound effects for cards (Blue Stripes Commando, Pavetta, Sabrina Glevissig, Sile, Sarah, Vrihedd Vanguard, Igni, Scoia'tael Leaders).