| | | |
| --- | --- | --- |
| " | The dryad queen has eyes of molten silver, and a heart of cold–forged steel. | " |
For centuries, Eithné - ruler of Brokilon has led the dryads in defending their forest homeland against encroaching humans. To replenish her ranks of warriors over that time, she had to resort to unusual means, for dryads birth only daughters, sired through infrequent liaisons with elves or humans. They can, however, also adopt girls of other races. Administered Brokilon's magic waters from Eithne's own hands, such a child is stripped of all memories and becomes a dryad, a defender of the woods.
Ability
Deploy: Resurrect a Bronze or Silver Special card.
Animated card
Note: For accurate card stats, see infobox to the right; the one below is for illustrative purposes only.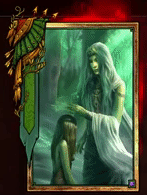 Witcher links
Patch changes
 Gwent Update: Aug 29, 2017 Patch: Clarified the tooltip to specifically state that the ability affects Bronzes or Silvers. General change; Doomed and Stubborn are no longer tags, but abilities in card's description. General change; Removed Leader tokens from Leader card preview.
 Gwent Update: May 24, 2017 Patch: Ability rework resembling old Aglais; Spawn Eithné. Deploy: Resurrect a Special card. Eithné Power changed from 0 to 5. Now Agile and Legendary as every other Leader. Now obtainable in the "challanges". General change: Added Doomed and Stubborn tags to all Leaders.
 Gwent Update: Nov 15, 2016 Patch: Eithne is now Epic as every other Leader (was Legendary). New sound effects for cards (Blue Stripes Commando, Pavetta, Sabrina Glevissig, Sile, Sarah, Vrihedd Vanguard, Igni, Scoia'tael Leaders).
Ad blocker interference detected!
Wikia is a free-to-use site that makes money from advertising. We have a modified experience for viewers using ad blockers

Wikia is not accessible if you've made further modifications. Remove the custom ad blocker rule(s) and the page will load as expected.