| | | |
| --- | --- | --- |
| " | They do not call me the Patient. Take care they do not call you the Headless. | " |
Few names in the Continent's history arouse as much terror and respect as that of Emhyr var Emreis, Deithwen Addan yn Carn aep Morvudd - the White Flame Dancing on the Graves of his Foes. Emperor of Nilfgaard, lord of Metinna, Ebbing and Gemmera, sovereign of Nazair and Vicovaro, he was ruler of half the civilized world and aspiring conqueror of the other half. He was a personage whose deeds and decisions shaped the fates of whole kingdoms and populations.
Ability
Spawn Emhyr var Emreis.
Deploy: Return an Ally to your Hand, then play a card from your Hand (can be Gold).
Animated card
Note: For accurate card stats, see infobox to the right; the one below is for illustrative purposes only.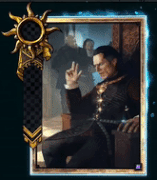 Witcher links
Patch changes
Ad blocker interference detected!
Wikia is a free-to-use site that makes money from advertising. We have a modified experience for viewers using ad blockers

Wikia is not accessible if you've made further modifications. Remove the custom ad blocker rule(s) and the page will load as expected.