| | | |
| --- | --- | --- |
| " | A fiend looks a bit like a deer. An enormous, evil deer. | " |
Fiends are walking mountains of muscle capped with horned, tooth-filled heads. Like their rarer cousins, bumbakvetches, they live in thick forests, swamps and bogs. When possible they avoid humans, but when not possible, they kill them, and without much difficulty.
Ability
Deploy: If you have any Relicts in your Hand, Strengthen self by 3.
Animated card
Note: For accurate card stats, see infobox to the right; the one below is for illustrative purposes only.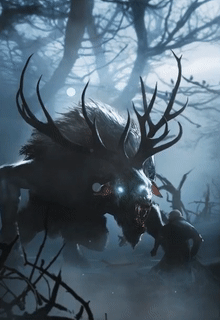 Witcher links
 See this subject on The Witcher wiki: Fiend
Patch changes
 Gwent Update: Aug 29, 2017 Patch: Morvudd is an equivalent of old Fiend (except its ability rounds up). Fiend Power changed from 5 to 8. Ability rework; Deploy: If you have any Relicts in your Hand, Strengthen self by 3. Fiend became a Bronze card. Now Agile (was Melee).
 Gwent Update: May 24, 2017 Patch: Now Silver and Epic (was Bronze and Common). Fiend Power changed from 8 to 5. Added an ability; Deploy: Toggle a Unit's Lock. If it's an Enemy, Damage it by half its Power (rounding down and ignoring Armor). Added "Relict" Tag.
Ad blocker interference detected!
Wikia is a free-to-use site that makes money from advertising. We have a modified experience for viewers using ad blockers

Wikia is not accessible if you've made further modifications. Remove the custom ad blocker rule(s) and the page will load as expected.