| | | |
| --- | --- | --- |
| " | To live in peace, we first must kill. This is human oppression's cruel finale. | " |
After the coup on Thanedd Island, during which she sided with the mages who had allied themselves with Nilfgaard, Francesca became the queen of Dol Blathanna, the state of the Free Elves created somewhat whimsically by Emperor Emhyr var Emreis. Enid is widely considered the most beautiful woman in the world. This pureblood Aen Seidhe with dark gold hair and penetrating azure eyes is also a powerful sorceress, possessing a tremendous command of the famed elven magic.
Ability
Spawn Francesca
Deploy: Mulligan up to 3 cards.
Animated card
Note: For accurate card stats, see infobox to the right; the one below is for illustrative purposes only.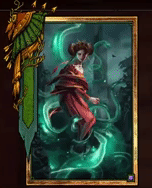 Witcher links
Patch changes
Ad blocker interference detected!
Wikia is a free-to-use site that makes money from advertising. We have a modified experience for viewers using ad blockers

Wikia is not accessible if you've made further modifications. Remove the custom ad blocker rule(s) and the page will load as expected.