| | | |
| --- | --- | --- |
| " | To live in peace, we first must kill. This is human oppression's cruel finale. | " |
Ability
Deploy: You may Mulligan a card, but choose any card from your Deck to replace it.
If the replacement card's a Unit, Boost it by 3. Then shuffle your Deck.
Animated card
Note: For accurate card stats, see infobox to the right; the one below is for illustrative purposes only.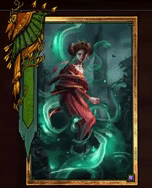 Witcher links
Patch changes
 Gwent Update: Aug 29, 2017 Patch: Francesca Power changed from 6 to 7. Now able to Mulligan only 1 card (instead of 3) and choose any card from the Deck as a replacement. Boosts drawn card by 3, if it's a Unit. General change; Doomed and Stubborn are no longer tags, but abilities in card's description. General change; Removed Leader tokens from Leader card preview.
 Gwent Update: May 24, 2017 Patch: Francesca Power changed from 0 to 4. Now Agile and Legendary as every other Leader. General change: Added Doomed and Stubborn tags to all Leaders.
 Gwent Update: Nov 15, 2016 Patch: Francesca is now Epic as every other Leader (was Legendary). New sound effects for cards (Blue Stripes Commando, Pavetta, Sabrina Glevissig, Sile, Sarah, Vrihedd Vanguard, Igni, Scoia'tael Leaders).
Ad blocker interference detected!
Wikia is a free-to-use site that makes money from advertising. We have a modified experience for viewers using ad blockers

Wikia is not accessible if you've made further modifications. Remove the custom ad blocker rule(s) and the page will load as expected.