| | | |
| --- | --- | --- |
| " | A twist of a witcher's fingers can light a lamp… or incinerate a foe. | " |
The Igni sign is one of five simple magical signs used by witchers and causes a burst of fire that can repel and ignite opponents, as well as start fires. Igni is incredibly effective against foes that are weak to fire. There is also an alternative form of Igni that allows witchers to release a steady flow of fire instead of one quick burst, which can be particularly useful for continuously burning enemies even after they've been ignited.
Ability
Deploy: Destroy all the Highest Units on the opposite row if that row totals 20 or more Power.
Animated card
Note: For accurate card stats, see infobox to the right; the one below is for illustrative purposes only.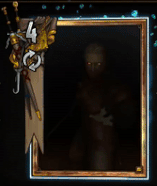 Witcher links
 See this subject on The Witcher wiki: Igni sign
Patch changes
Ad blocker interference detected!
Wikia is a free-to-use site that makes money from advertising. We have a modified experience for viewers using ad blockers

Wikia is not accessible if you've made further modifications. Remove the custom ad blocker rule(s) and the page will load as expected.