| | | |
| --- | --- | --- |
| " | Fled one time in my life. From the Ice Giant. And I'm not a bit ashamed. | " |
This powerful, primeval monster is quite possibly the last of its race. The Ice Giant resembles a man in many respects, but is blue as frost and taller than a tree. Though it seems capable of reason, all attempts to communicate with it to date have ended the same way – in a quick and painful death.
Ability
If Frost is anywhere on the Board, Boost self by 5. When the last Frost is cleared, Damage self by 5.
Animated card
Note: For accurate card stats, see infobox to the right; the one below is for illustrative purposes only.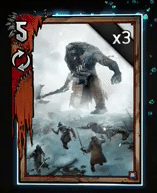 Witcher links
Patch changes
Ad blocker interference detected!
Wikia is a free-to-use site that makes money from advertising. We have a modified experience for viewers using ad blockers

Wikia is not accessible if you've made further modifications. Remove the custom ad blocker rule(s) and the page will load as expected.