| | | |
| --- | --- | --- |
| " | I might just discover I look great without ears... or hands. Apparently the King of Beggars accepts both as partial payment. | " |
Ability
If losing, Strengthen self up to a maximum of 15 until scores are tied.
Animated card
Note: For accurate card stats, see infobox to the right; the one below is for illustrative purposes only.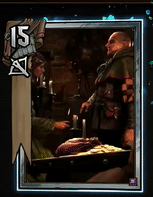 Witcher links
Patch changes
 Gwent Update: Dec 19, 2017 Patch: Removed Regressing ability. Now Agile as every other Unit (was Ranged). Removed Brave ability from the game.
 Gwent Update: Aug 29, 2017 Patch: General change; Regressing is no longer a tag, but an ability in card's description. Added Support Tag.
 Gwent Update: May 24, 2017 Patch: Ability rework; Deploy, Brave: Strengthen self enough to tie the Round or to a maximum of 15 base Power. King of Beggars Power changed from 3 to 5. Now Epic as every other Silver (was Legendary).