| | | |
| --- | --- | --- |
| " | Witchers never die in their beds. | " |
This renegade remnant of the handful of witchers from the School of the Viper who survived the pogroms, offered his blade and his skills to the emperor. In exchange, he was promised that the school would be rebuilt. On the emperor's orders and at Letho's hand, two great Nordling kings, Foltest of Temeria and Demavend of Aedirn, died violent and premature deaths.
Ability
Deploy: If Spying, set own base Power to 1.
Deploy: Destroy Units adjacent to this one and Boost self by their Power.
Animated card
Note: For accurate card stats, see infobox to the right; the one below is for illustrative purposes only.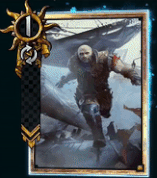 Witcher links
Patch changes
 Gwent Update: Aug 29, 2017 Patch: Letho of Gulet Power changed from 7 to 9. Will now Destroy (previously Banished) adjacent Units (previously 2 Units on each side). Added Double Agent Tag.
 Gwent Update: June 20, 2017 Patch: Fixed the issue whereby Disloyal Agile Units (e.g. Letho of Gulet) couldn't be played on rows other than Melee.
 Gwent Update: May 24, 2017 Patch: Letho of Gulet Power changed from 1 to 7. If spying, he will now set his Base Power to 1. He will now boost instead of strenghening after absorbing the Power.
Ad blocker interference detected!
Wikia is a free-to-use site that makes money from advertising. We have a modified experience for viewers using ad blockers

Wikia is not accessible if you've made further modifications. Remove the custom ad blocker rule(s) and the page will load as expected.