| | | |
| --- | --- | --- |
| " | Eat enough of them, and the world will never be the same... | " |
Ability
Choose One:
Mutagen. Reset a unit and Strengthen it by 3.
Toxicant. Reset a unit and Weaken it by 3.
Animated card
Note: For accurate card stats, see infobox to the right; the one below is for illustrative purposes only.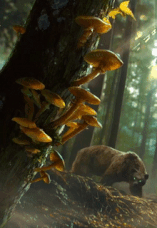 Witcher links
Patch changes
 Gwent Update: Dec 19, 2017 Patch: Name change: Mushrooms (was Mardroeme). Replaced Spores artwork with the one already used by Mushrooms and Mutagen. Added Alchemy Tag.
 Gwent Update: Aug 29, 2017 Patch: Added Organic Tag to Mardroeme, Spores and Mutagen. General change; Doomed is no longer a tag, but an ability in card's description (applies to Spores and Mutagen).
 Gwent Update: Jan 5, 2017 Patch: Fixed an exploit, using Mardroeme to get an auto-win after not choosing a target for the Mutagen card.