| | | |
| --- | --- | --- |
| " | The vilest man Skellige's ever known. | " |
Morkvarg was a notorious and cruel pirate. He and his crew sailed the seas around Skellige, pillaging and raping as they went and none seemed able to stop them. Morkvarg was said to fear nothing, except the wrath of the gods. In order to dispel that rumor as well, he and his crew sailed to Hindarsfjall to ransack Freya's garden.
Ability
Whenever this Unit is Discarded or Destroyed, Resurrect it and Weaken it by half its Power (rounding up).
Witcher links
 See this subject on The Witcher wiki: Morkvarg
Animated card
Note: For accurate card stats, see infobox to the right; the one below is for illustrative purposes only.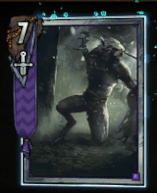 Patch changes
 Gwent Update: July 5, 2017 Patch: Morkvarg's Power changed from 8 to 9. Morkvarg will now have his Power reduced by half rounding up when entering the Graveyard.
 Gwent Update: May 24, 2017 Patch: Morkvarg power changed from 6 to 8. Morkvarg will now lose 3 base strength, instead of 2. As every other Silver Morkvag is now Epic (was Legendary). Fixed an issue with Morkvarg staying on board with 0 Strength. Added "Cursed" Tag.
 Gwent Update: March 23, 2017 Patch: Morkvarg strength changed from 7 to 6.; Lock now blocks Morkvarg and Ciri: Dash's abilities.; Fixed an issue whereby Morkvarg's art would get corrupted after being destroyed by Villentretenmerth.
 Gwent Update: Feb 20, 2017 Patch: Morkvarg should no longer receive random strength values after being affected by weather and resurrected.
Ad blocker interference detected!
Wikia is a free-to-use site that makes money from advertising. We have a modified experience for viewers using ad blockers

Wikia is not accessible if you've made further modifications. Remove the custom ad blocker rule(s) and the page will load as expected.