| | | |
| --- | --- | --- |
| " | These little guys are almost cute, if you ignore the whole vicious killer aspect. | " |
The nekkers' basic tactic is to strike en masse. They burrow from beneath the ground and swarm upon their prey. Though primitive, the tactic is surprisingly effective. One must be ready to repel many foes at once - the fast style is best suited to this. As with other agile creatures, running from nekkers is not the best idea, for the monsters will catch up to their prey and swiftly kill it with multiple hits of their claws.
Ability
Whenever an Ally Consumes a card while this Unit is in your Hand, Deck or on your side of the Board, Boost self by 1.
Deathwish: Play a Nekker from your Deck.
Animated card
Note: For accurate card stats, see infobox to the right; the one below is for illustrative purposes only.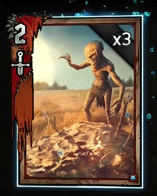 Witcher links
Patch changes
Ad blocker interference detected!
Wikia is a free-to-use site that makes money from advertising. We have a modified experience for viewers using ad blockers

Wikia is not accessible if you've made further modifications. Remove the custom ad blocker rule(s) and the page will load as expected.