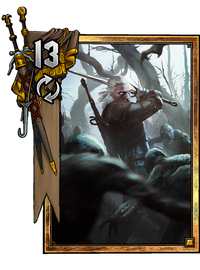 Neutral is one of the factions in Gwent. The neutral faction has no leader cards.
By type
Gold
Silver
Bronze
Token
By position
Any
Event
Melee
Ranged
Siege
Removed or Faction-swapped
Patch changes
 Gwent Update: Aug 29, 2017 Patch: Gold cards can now be interacted with by most cards (unless stated otherwise). Changed names of Vesemir, Eskel and Lambert to School of the Wolf: Vesemir, Eskel, Lambert. Created Triple-Art for them, and given to old Arts to new Gold versions of those characters. Added lots of new tags; Alchemy, Spell, Organic, Support, Officer, Agent, Redania, Temeria, Aedirn, Cintra.
Ad blocker interference detected!
Wikia is a free-to-use site that makes money from advertising. We have a modified experience for viewers using ad blockers

Wikia is not accessible if you've made further modifications. Remove the custom ad blocker rule(s) and the page will load as expected.