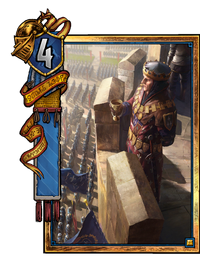 Northern Realms
The Northern Realms seek to gain control of the battlefield by reinforcing their numbers. Their valiant commanders march in the front lines to inspire their units and boost their strength. Their troops can be immunized against attacks and weather spells thanks to Armor.
By type
Leaders
Gold
Silver
Bronze
By position
Any
Event
Melee
Ranged
Siege
Videos
Patch changes
 Gwent Update: May 24, 2017 Patch: The Northern Realms faction has been reworked and undergone major changes.; Faction abilities have been removed from the game.
Ad blocker interference detected!
Wikia is a free-to-use site that makes money from advertising. We have a modified experience for viewers using ad blockers

Wikia is not accessible if you've made further modifications. Remove the custom ad blocker rule(s) and the page will load as expected.