Ability
Strengthen all your other Ogroids in hand, deck, and on board by 1.
Animated card
Note: For accurate card stats, see infobox to the right; the one below is for illustrative purposes only.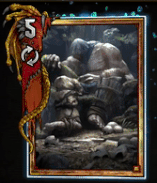 Witcher links
Patch changes
 Gwent Update: Dec 19, 2017 Patch: Name change: Sleeping Giant (was Old Speartip: Asleep). Sleeping Giant Power changed from 5 to 12. Ability rework; Strengthen all your Ogroid units by 1, wherever they are. Old Speartip: Awake became a separate card.
 Gwent Update: May 24, 2017 Patch: Old Speartip: Asleep Power changed from 4 to 5. Will only Boost Adjacent Units (instead of the entire Row). Now Gold and Legendary (was Silver and Rare). Added "Ogroid" Tag.