Strawberry is the village of Murky Waters' prize-winning cow. She has the glossiest coat in the area, glossier than her rival in Bullsville, thanks to Abigail, the local healer, who has concocted an ointment to enhance the shine. She is also extremely fond of dried fruit and nuts. Unfortunately for Strawberry, the vodyanoi would like to sacrifice her at the Altar of Dagon.
Ability
Retaliation: Spawn a Chort on the row.
Deathwish: Spawn a Chort on the row.
Animated card
Note: For accurate card stats, see infobox to the right; the one below is for illustrative purposes only.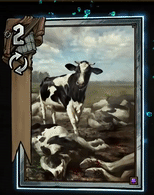 Witcher links
Patch changes
 Gwent Update: Aug 29, 2017 Patch: Chort Power changed from 6 to 7. Removed Chort's Brave Ability to Strengthen by 4. General change; Doomed is no longer a tag, but an ability in card's description.
 Gwent Update: May 24, 2017 Patch: Prize-Winning Cow Power changed from 1 to 2. Now Agile (was Melee). Added additional passive ability; Retaliation: Spawn a Chort on the Row. Added "Beast" and "Doomed" Tags.
Ad blocker interference detected!
Wikia is a free-to-use site that makes money from advertising. We have a modified experience for viewers using ad blockers

Wikia is not accessible if you've made further modifications. Remove the custom ad blocker rule(s) and the page will load as expected.