| | | |
| --- | --- | --- |
| " | I'll die for Redania, I'll kill for Redania… I'll even eat worms for Redania! | " |
Ability
Whenever this unit's Armor reaches 0, boost self by 5.
4 Armor.
Animated card
Note: For accurate card stats, see infobox to the right; the one below is for illustrative purposes only.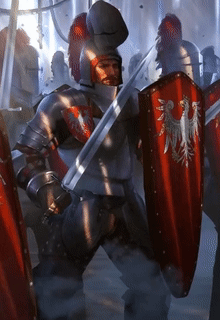 Witcher links
Patch changes
 Gwent Update: May 24, 2017 Patch: Redanian Elite Power changed from 7 to 5. Ability rework; Whenever this Unit's Armor reaches 0, Boost self by 5. Deploy: Gain 3 Armor. Now Agile and Rare (was Siege and Common).
 Gwent Update: Jan 5, 2017 Patch: Playing 3 Reinforced Ballistas and Redanian Elites will no longer cause the servers to desynchronize.
 Gwent Update: Dec 2, 2016 Patch: Redanian Elite buff removed due to technical issues, strength changed from 4 to 6. General Promotion Changes: Converting units to Gold no longer sets current strength as new base strength. Also, the unit will revert from Gold to its original color when destroyed or at the end of the current round. Upon entering the graveyard both gold status and all buffs are removed.