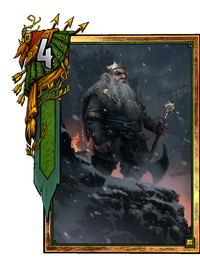 Scoia'tael is one of the factions in Gwent. The majority of units may be placed in any position. If choosing this faction, the player may choose who begins one round per game.
By type
Leaders
Gold
Silver
Bronze
By position
Any
Event
Melee
Ranged
Siege
Videos
Patch changes
 Gwent Update: Dec 2, 2016 Patch: Fixed an issue whereby the game would fall out of sync when the Scoia'tael faction ability timed out between rounds.
 Gwent Update: Nov 15, 2016 Patch: New sound effects for cards (Blue Stripes Commando, Pavetta, Sabrina Glevissig, Sile, Sarah, Vrihedd Vanguard, Igni, Scoia'tael Leaders).
Ad blocker interference detected!
Wikia is a free-to-use site that makes money from advertising. We have a modified experience for viewers using ad blockers

Wikia is not accessible if you've made further modifications. Remove the custom ad blocker rule(s) and the page will load as expected.