| | | |
| --- | --- | --- |
| " | I'm a medic. I tend to know what I'm doing when I prescribe something. | " |
Ability
Deploy: Resurrect a Bronze or Silver Unit and add 2 Armor to it.
Animated card
Note: For accurate card stats, see infobox to the right; the one below is for illustrative purposes only.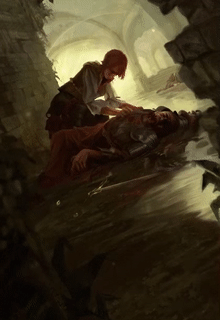 Witcher links
 See this subject on The Witcher wiki: Shani
Patch changes
 Gwent Update: Aug 29, 2017 Patch: Shani Power changed from 4 to 5. Will add 5 (instead of 4) Armor. Clarified the tooltip to specifically state that the ability affects Bronzes or Silvers. Added Support and Redania Tags.
 Gwent Update: May 24, 2017 Patch: Shani Power changed from 2 to 3. Ability change; Deploy: Resurrect a Unit and add 3 Armor to it. Now Agile and Legendary as every other Gold (was Ranged and Epic). Removed "Permadeath" Tag.
 Gwent Update: Dec 2, 2016 Patch: Shani strength changed from 4 to 3.; Nenneke, Shani, and Lubberkin now in the "Permadeath" category.; Fixed some issues with Shani ability priority. General Promotion Changes: Converting units to Gold no longer sets current strength as new base strength. Also, the unit will revert from Gold to its original color when destroyed or at the end of the current round. Upon entering the graveyard both gold status and all buffs are removed.
Ad blocker interference detected!
Wikia is a free-to-use site that makes money from advertising. We have a modified experience for viewers using ad blockers

Wikia is not accessible if you've made further modifications. Remove the custom ad blocker rule(s) and the page will load as expected.