| | | |
| --- | --- | --- |
| " | Fall on your knees and beg Modron Freya for forgiveness. | " |
Ability
Resurrect a Bronze or Silver Clan unit.
Animated card
Note: For accurate card stats, see infobox to the right; the one below is for illustrative purposes only.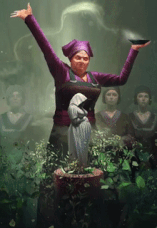 Witcher links
 See this subject on The Witcher wiki: Sigrdrifa
Patch changes
 Gwent Update: Dec 19, 2017 Patch: Now Agile as every other Unit (was Siege). Resurrection restricted for Bronze or Silver Clan units (previously any Bronze or Silver unit). Removed Doomed from ability section. Added Doomed Tag.
 Gwent Update: Aug 29, 2017 Patch: General change; Doomed is no longer a tag, but an ability in card's description. Clarified the tooltip to specifically state that the ability affects Bronzes or Silvers. Added Support Tag.
 Gwent Update: May 24, 2017 Patch: Power changed from 2 to 3. No longer boosts self whenever a card is resurrected. Replaced Permadeath with Doomed Tag.
 Gwent Update: Feb 6, 2017 Patch: Will no longer be able to resurrect Permadeath units.; Strength changed from 1 to 2.; Will be buffed by your opponent's resurrections if the resurrected unit is played on your side.