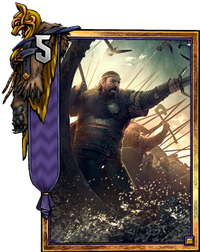 Skellige
Skelligers embrace death's glory, knowing their priestesses and medics can summon departed heroes from the Graveyard to fight another day. A Skellige player sends units to the Graveyard on purpose… only to bring them back later, stronger than ever. Skelligers also turn wounds to their favor by inciting their bloodied warriors to attack with redoubled strength.
By type
Leaders
Gold
Silver
Bronze
Token
By position
Any
Event
Melee
Ranged
Siege
Videos
Witcher links
Patch changes
 Gwent Update: Aug 29, 2017 Patch: Gold cards can now be interacted with by most cards (unless stated otherwise). Added lots of new tags; Alchemy, Spell, Organic, Soldier, Support, Officer, Agent, an Craite, Tuirseach, Drummond, Dimun, Heymaey, Svalblod, Tordarroch, Brokvar.
 Gwent Update: May 24, 2017 Patch: Several cards that had issues during Closed Beta have been improved.; Faction abilities have been removed from the game.
Ad blocker interference detected!
Wikia is a free-to-use site that makes money from advertising. We have a modified experience for viewers using ad blockers

Wikia is not accessible if you've made further modifications. Remove the custom ad blocker rule(s) and the page will load as expected.