| | | |
| --- | --- | --- |
| " | Strike his name from the Saga of Elders! No one dare grant him shelter or sustenance! | " |
Ciri encountered plenty of liars, scoundrels, and villains along her path - but luckily happened on some decent folk as well. Certainly worthy of being counted among the latter was Skjall, a young warrior from Lofoten. Initially, he and his family tended to Ciri's wounds, nursed her back to health, then he helped her flee the Wild Hunt.
Ability
Deploy: Play a random Bronze or Silver Cursed Unit from your Deck.
Animated card
Note: For accurate card stats, see infobox to the right; the one below is for illustrative purposes only.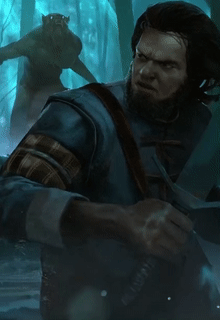 Witcher links
 See this subject on The Witcher wiki: Skjall
Patch changes
 Gwent Update: Aug 29, 2017 Patch: Skjall Power changed from 6 to 5. Ability rework; Deploy: Play a random Bronze or Silver Cursed Unit from your Deck. Removed Veteran: 1. No longer timer-based ability. Added Cursed and Heymaey Tags.
 Gwent Update: May 24, 2017 Patch: Ability rework; Veteran 1. After 2 turns, at the end of your turn, convert this Unit's current Power into base Power. No longer Agile (Siege). Power changed from 3 to 6. "Craven Revived token was removed and transformed into a standalone card - "Necromancy".
 Gwent Update: Feb 6, 2017 Patch: Strength changed from 4 to 3.; Ability changed to: "Lose 3 strength at the start of your turn. When removed from the battlefield, spawn Craven Revived on the same row".
Ad blocker interference detected!
Wikia is a free-to-use site that makes money from advertising. We have a modified experience for viewers using ad blockers

Wikia is not accessible if you've made further modifications. Remove the custom ad blocker rule(s) and the page will load as expected.