| | | |
| --- | --- | --- |
| " | We never hunt in these woods. Not even if it means the whole village'll starve. | " |
The leshen known as the Woodland Spirit was so powerful as to have mastered the art of marking. This meant the monster had inserted his essence into one of the residents of Fayrlund. As long as this unfortunate soul remained alive and near the settlement, the leshen would always be reborn near its lair.
Ability
Deploy: Spawn 3 Rabid Wolves and apply Fog to the opposite row.
Animated card
Note: For accurate card stats, see infobox to the right; the one below is for illustrative purposes only.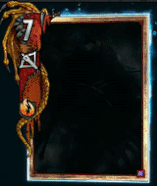 Witcher links
Patch changes
 Gwent Update: May 24, 2017 Patch: Woodland Spirit Power changed from 8 to 5. Ability change; will apply Fog to the opposite Row only. Now Agile and Legendary as every other Gold (was Ranged and Epic). Added "Relict" Tag.
 Gwent Update: March 23, 2017 Patch: Woodland Spirit strength changed from 7 to 8.; Woodland Spirit now only spawns Fog on the player's side.
 Gwent Update: Dec 2, 2016 Patch: Woodland Spirit is now immune to Fog.
Ad blocker interference detected!
Wikia is a free-to-use site that makes money from advertising. We have a modified experience for viewers using ad blockers

Wikia is not accessible if you've made further modifications. Remove the custom ad blocker rule(s) and the page will load as expected.