| | | |
| --- | --- | --- |
| " | A good sorceress must know when to conjure ice... and when to conjure fire. | " |
Ability
Deal 1 damage to the Highest enemies on turn end.
Animated card
Note: For accurate card stats, see infobox to the right; the one below is for illustrative purposes only.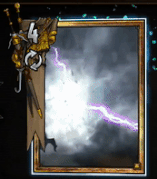 Voice Lines
There'll be nothing to pick up when I'm done with you!
You crossed the wrong sorceress!
You'd best yield now!
Witcher links
Patch changes
 Gwent Update: Dec 19, 2017 Patch: Name change: Yennefer: Conjurer (was Yennefer: The Conjurer). Yennefer: Conjurer power changed from 7 to 9. Will deal damage on turn end, instead of start (immediately after being played). Removed Revenge ability.
 Gwent Update: Aug 29, 2017 Patch: Yennefer: the Conjurer power changed from 4 to 7. Added additional ability: Deathwish: If Destroyed during your opponent's turn, Damage all the Highest Enemies by 2. Added Aedirn tag.